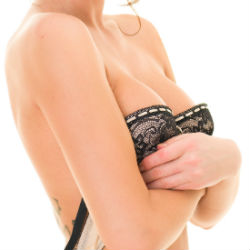 The breast lift procedure, also known as mastopexy, is typically recommended for women who are generally happy with the size of their breasts but desire a more youthful shape, texture, and contour. Sagging skin and drooping (ptosis) of the breasts are very common and can occur during the natural aging process, after pregnancy, or following weight loss. Here at The Ottawa Clinic, our experienced plastic surgeons can help you attain firmer, "perkier" breasts with beautiful, natural-looking results.
The Breast Lift Procedure
The goal of surgery is to tighten the skin, recontour the breast tissue, and reposition the nipple to a higher, more youthful area of the breast. During the consultation, your plastic surgeon will help you understand if breast lift surgery can help you achieve your ideal results, as well as what to expect throughout the process.
Breast lift surgery is performed under general anaesthesia at one of our fully accredited hospitals. Depending on the contour that needs to be corrected, incisions can vary from those limited to around the nipple (areola) to more extensive incisions within the crease underneath the breast. Our plastic surgeon will help you decide which approach is best, based on your specific characteristics and goals. During the procedure, the breast tissue will be tightening and reshaped, and the nipple will be lifted to a more youthful position. Some women may benefit from a combination of mastopexy and breast implants to improve both contour and volume.
Breast Lift Recovery
For the first few weeks following your surgery, you can expect to have some swelling and bruising, but this will gradually fade. Patients can typically resume their normal routine within the first week, but we recommend you refrain from strenuous activity for several weeks so that the healing process is not disrupted. One of our surgeons will go over all aspects of the procedure and recovery process before your treatment.
Schedule a Consultation
If you have questions about breast lift surgery, or if you would like to schedule a consultation, please contact us today.