Icon™ Laser Treatment for Skin Revitalization & Hair Removal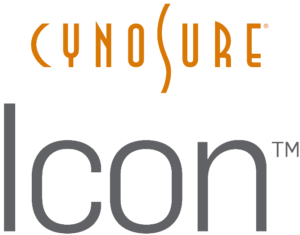 Our plastic surgeons and dermatologist at The Ottawa Clinic strive to help patients feel beautiful through state-of-the-art treatment options. With the Palomar Icon™ Aesthetic System by Cynosure®, our doctors can address a number of common aesthetic concerns through one versatile technology. From skin revitalization to hair removal, the Icon™ system has proven to effectively improve the appearance of skin with little to no downtime. The laser energy is customized according to each patient's specific needs, which provides increased safety and enhanced results.
IPL for Skin Revitalization
For those with concerns relating to the tone or texture of their skin, we utilize the Icon™ laser to provide Intense Pulsed Light (IPL) treatments—also called photorejuvenation or photofacials. Through IPL treatment, we can treat a variety of skin imperfections on the face and body, including sun damage, rosacea, spider veins, stretch marks, scars, and wrinkles.
The IPL treatment works by sending pulses of high-energy light deep into the skin layers, which causes the targeted tissue to gradually break down. The body's natural healing process then removes these cells and signals new collagen to form in the area. Through this process, the skin achieves a more even texture, smoothing out wrinkles and other irregularities, as well as a more consistent pigment.
IPL using the Icon™ laser offers shorter treatment time compared to traditional IPL systems. Most sessions can be completed in under 30 minutes, though this will vary based on the size and number of areas to be treated. Over the course of the first few days, the rejuvenating results should gradually become more apparent. While beautiful results can often be achieved with just one treatment, most patients will require two to three sessions to achieve their desired outcome.
Laser Hair Removal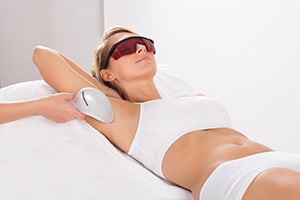 In addition to skin revitalization, the Icon™ Aesthetic System can be utilized for the removal of unwanted facial and body hair. It can treat large or small areas, with some of the most common being the face, underarms, legs, back, bikini area, and chest. For this purpose, the Icon™ device sends light energy to the target area to destroy the hair follicles without damaging the surrounding skin. A hair removal session can take anywhere from five to 30 minutes. Patients typically report feeling minimal discomfort during this process, and no downtime is required, allowing patients to resume their normal activities immediately after their treatment.
Following a hair removal session with Icon™, hair thickness should gradually decrease, and fewer hairs should grow in the treated area. Since the light energy can only target hair when it is in its active phase of growth, an average of four to six treatments are typically recommended to achieve optimal results. Once the desired outcome is achieved, patients can expect to enjoy smooth skin with a lasting effect.
To learn more about laser hair removal or skin revitalization, please contact us to schedule a consultation.