Injectable Facial Fillers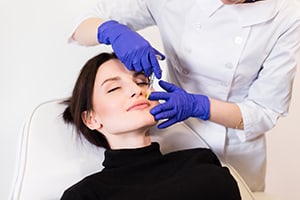 If you are looking to rejuvenate your facial appearance, dermal filler injections may be the ideal solution for your cosmetic needs. These injectables are a highly popular option for patients wishing to treat mild to moderate signs of facial aging, such as fine lines and wrinkles. They are designed to add volume to target areas of the face where it has gradually depleted over time, which results in a smoother, more youthful complexion.
Our plastic surgeons, dermatologist, and nurse injector critically evaluate new and innovative injectable products as they enter the Canadian health care market. Once established as safe and effective, our team then considers adding the injectables to the practice's treatment protocols. The advanced injectable options that we offer can treat a number of areas on the face to help you achieve your cosmetic goals. For more information, or to schedule your consultation at The Ottawa Clinic, please contact us today.
Lip Enhancement
Lip augmentation is a viable option for those wishing to add volume and shape to otherwise thin lips. By enhancing their size and contour with a dermal filler like JUVÉDERM VOLBELLA® XC, you can achieve more youthful, sensual lips as well as a more balanced facial aesthetic.
Cheeks
With age the cheeks tend to develop a hollow-looking appearance from the depletion of volume over time. By utilizing dermal fillers like JUVÉDERM VOLUMA™ XC, our team can augment the area, causing it to appear fuller and more youthful. The enhanced cheek volume can also minimize wrinkles that may be present.
Jowls
As the lower part of the face along the jawline ages, it develops what is known as "jowls". This occurs from skin and tissue that has become more lax, causing a heavy appearance. Filler injectables can help plump the cheek area to seemingly lift the jowls to a more youthful position. Additionally, the appearance of nasolabial folds, also located in the lower face, can be smoothed with the help of JUVÉDERM VOLIFT®.
Eyes
Dermal fillers injected into the area around the eyes can smooth lines and wrinkles that cause the face to look older than desired. Another benefit of volumizing the area is that it can lessen dark hollows under the eyes, making you look more awake and refreshed.
Soft Lift™
The Soft Lift™ procedure addresses upper, mid, and lower facial areas for a more complete rejuvenation. In this treatment, a dermal filler and BOTOX® injections are utilized to address both muscles and contour deficiency. BOTOX® Cosmetic is used to relax the muscles around the eyes and forehead, while a dermal filler–typically in the JUVÉDERM® family–is used to soften lines around the mouth and restore volume in the cheeks, lips, and chin area.
Non-Surgical Rhinoplasty
A non-surgical rhinoplasty uses dermal fillers to alter the appearance and shape of your nose. People seek this treatment as an alternative to surgical rhinoplasty as there is little to no downtime. You can often see immediate results and the treatment can be completed in usually less than an hour. A non-surgical rhinoplasty may be right for you if you are looking to experiment with the shape of your nose, or change it in small ways (smooth out bumps, etc). A non-surgical rhinoplasty is not permanent and results of this procedure can last anywhere from six months to three years. Please feel free to contact our office to book a consultation with one of our plastic surgeons, our nurse injector, or our dermatologist to determine if this procedure is right for you.
If you would like to learn how injectable fillers can enhance your facial appearance, please contact us to schedule a consultation.