Venus Glow™ Dermal Renewal
What Is the Venus Glow Dermal Renewal System?

Venus Glow™ is a non-surgical skin treatment that cleans, exfoliates, and moisturizes skin to improve its health and appearance. Utilizing this state-of-the-art system, our plastic surgeons and dermatologist at The Ottawa Clinic offer dermal renewal for patients wanting to brighten and revitalize their skin. This innovative technology consists of an adjustable vacuum, rotating tip, and two ultra-fine jet streams to deliver one of four Glow Serums. Through its two-step treatment process, the Venus Glow treatment can address a variety of skin concerns to create a glowing, youthful complexion.
What Are the Benefits of Venus Glow?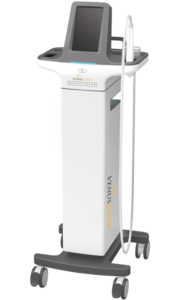 The Venus Glow system offers patients many advantages for the health and look of their skin. With multiple rotation speeds, jet stream strengths, and vacuum options, the dermal renewal treatment is customizable to each individual's needs and goals, providing benefits such as:
Exfoliating skin to remove dull and dead skin cells
Deep cleaning pores to extract dirt and impurities
Moisturizing and renewing skin for glowing results
Improving uneven skin tone and texture
What Does a Venus Glow Treatment Involve?
The Venus Glow treatment is a two-step process that involves preparing the skin before treating it with one of four advanced serums.
Step 1: The skin is cleansed and prepared with the device's adjustable vacuum and 360-degree rotating tip. In addition to removing dirt, dead skin cells, and other impurities, this process pulls the skin to improve micro-blood circulation, while the tip massages the skin. This step allows you to receive the most benefits from your Venus Glow with Serums treatment.
Step 2: Using the handheld device, the Glow Serum(s) that have been selected for your unique concerns will be delivered across your skin in fine jet streams, which are smaller than the average pore size to maximize serum absorption. These serums are designed to help renew skin by improving firmness, reducing redness, diminishing wrinkles, and maintaining brightness. They are composed of certified organic botanicals, active peptides, and antioxidants that can address a wide range of concerns.
The Venus Glow dermal renewal treatment is typically very comfortable, and after your appointment, you should not need any downtime, making this a great "lunchtime" procedure that allows you to immediately return to your normal schedule.
How Much Does Venus Glow Dermal Renewal Cost?
Since the Venus Glow treatment is tailored to each patient's needs, the cost will vary based on the details of the treatment, but the cost for most treatments is $195. Factors that can influence your cost include the type and number of serums, as well as if other procedures are performed in conjunction with your Venus Glow treatment. Before your procedure, our team can provide you with a cost estimate to help you understand what to expect.