Eyelid Surgery
What Is Eyelid Surgery?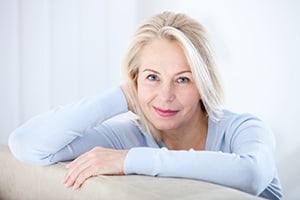 Blepharoplasty, also known as eyelid surgery, can benefit men and women who have excess skin and fat in the upper or lower eyelids. While the majority of patients seek this treatment to correct age-related changes, many individuals in their thirties or younger undergo the procedure to improve conditions that run in their family.
Upper and lower eyelid lifts can be performed alone or together, depending on the individual's needs. Surgery of the eyelids can also be combined with other facial or body procedures, like facelift or browlift surgery, for a more comprehensive transformation. To learn what procedure or combination of procedures can help you reach your aesthetic goals, please schedule a consultation with one of our experienced plastic surgeons.
What Are the Benefits of Eyelid Surgery?
Patients interested in blepharoplasty typically wish to reduce signs of age and exhaustion near the upper and/or lower eyelid areas. There are a number of unique needs that blepharoplasty can help address. Some of the advantages of eyelid surgery include:
Reducing sagging skin around the eyes
Correcting under-eye bags that create the appearance of dark circles or shadows
Addressing extra skin or fat near the eyes that is obstructing your vision
Smoothing out skin for a more youthful and rested appearance
During a consultation with one of our plastic surgeons, it will be determined whether a blepharoplasty can meet your needs and aesthetic goals. If our doctor believes you can benefit from this procedure, a treatment plan will be developed based on your concerns. If you desire more comprehensive facial rejuvenation, an additional procedure, such as a browlift, can be recommended.
Who Is a Good Candidate for Eyelid Surgery?
Typically, any patient who has excess skin, bulging pockets of fat, lines, wrinkles, dark circles, or shadows around their eyes may be a candidate for blepharoplasty. If you have one or more of these concerns, contact our office to schedule a consultation. Good candidates for eyelid surgery include individuals who are:
Healthy with no medical conditions that might diminish the healing process
Non-smokers
Realistic about their goals and expectations
If you are unsure if you would be a good candidate for eyelid surgery, please call our office today so we may further assist you.
What Are the Different Types of Eyelid Surgery?
Upper Eyelid Lift
Upper blepharoplasty can be performed under local anaesthesia as an in-office procedure or in the main operating room with sedation or general anaesthesia. During the procedure, excess skin and muscle are removed (with limited fat excision) to correct hooded, droopy (ptotic) lids and to create a more alert and rested appearance. The incisions are positioned in the natural skin creases of the upper lids and tend to heal as a fine-line scar, easily concealed with makeup within the first two weeks. Patients are typically discharged home later that same day.
Lower Eyelid Lift
Lower blepharoplasty is designed to correct excess fullness, puffiness, and skin of the lower lid. The procedure can also help diminish dark circles of the lower lid that persist even when an individual is well rested. Depending on the amount of skin that needs to be removed, incisions are placed either along the inside of the lower lid skin (conjunctiva) or just below the lower lash line. These incisions may extend to the wrinkles to the side of the eyes (Crow's Feet). The aim of the lower eyelid lift is to improve tired-looking eyes and create an appearance that looks well-rested, natural, and alert.
Double Eyelid Surgery
Also commonly referred to as "Asian blepharoplasty," double eyelid surgery is a specialized type of blepharoplasty that is frequently performed for individuals with a "single fold" in the upper eyelid—a characteristic that is common for certain patients of Asian descent. Some patients who have a single fold (meaning the crease in their upper eyelid is either absent or less prominent) may wish to create the appearance of a "double fold" to address the size and expression of their eyes. In these cases, one of our experienced plastic surgeons can design a detailed treatment plan to help create a subtle, yet natural-looking fold above the upper eyelashes.
What Is Eyelid Surgery Recovery Like?
Following eyelid surgery, you can expect bruising and swelling to occur, but this should fade with time. Our surgeons recommend keeping your head elevated and routinely using cool compresses in the area to reduce swelling. Additionally, oral pain medication can be taken to minimize postoperative pain and discomfort.
Two to three days following surgery, you should be able to resume most of your normal activities. However, many patients do not feel socially presentable until after the first week. To prevent healing complications, our surgeons recommend you avoid strenuous activities until the first few weeks after your surgery. More specific details about your recovery will be discussed when you meet with your surgeon. During this time you can also ask questions or express any concerns you may have.
What Will My Scars Look Like After Eyelid Surgery?
When performed by a skilled and experienced plastic surgeon, resulting scars after eyelid surgery should be unnoticeable, once healed. Regardless of the technique used for the procedure, the surgeons at The Ottawa Clinic take great care to place all incisions strategically along natural creases and other inconspicuous locations, allowing scars to be concealed easily. Additionally, the delicate skin around the eyes tends to heal quite well, so scarring is typically minimal.
How Much Does Eyelid Surgery Cost?
The cost of upper eyelid surgery often begins at $5,500 (under local anesthesia) or $7,000 (under general anesthesia). Lower blepharoplasty typically costs about $9,000 and up. For those undergoing a combination of upper and lower eyelid surgery, the cost is approximately $15,000 or higher. Since the procedure is customized to each patient's needs, the total cost will vary from patient to patient. Determining the cost of eyelid surgery will ultimately depend on the extent of a patient's needs and the surgical technique employed to help them achieve their aesthetic and/or functional goals.
Once you meet with one of our plastic surgeons and they create your custom treatment plan, a more comprehensive quote can be provided. A member of our team will then review your estimate with you. In cases where excess skin is obstructing your vision, the surgery may be covered by insurance. By visiting your optometrist for a visual eye test, they will see if your eyelid surgery may be considered medically necessary. If you are interested in plastic surgery financing, our staff can help you get started.
Is an Eyelid Lift Without Surgery Possible?
Generally speaking, blepharoplasty is the most effective way to treat signs of aging around the eyes with long-lasting results, particularly if loose skin and/or excess fat are present. That being said, there are some non-surgical treatments that may be able to address certain concerns, such as volume loss and skin texture or tone. Including medical-grade skin care products in your daily routine can improve skin quality around the eyes. Cosmetic injectables like BOTOX® Cosmetic and dermal fillers can help reduce the appearance of wrinkles and fine lines, as well as restore a revitalized appearance to hollowed tear troughs. Additionally, treatments such as laser skin resurfacing are designed to encourage healthy tissue growth for tighter, more even-toned skin. To determine whether or not these less invasive alternatives are capable of achieving your unique aesthetic goals, we encourage you to meet with one of our skilled plastic surgeons for a one-on-one consultation.
Can Eyelid Surgery Improve My Vision?
In cases where the skin of the upper eyelid area becomes so loose that it obstructs the patient's eyesight, blepharoplasty can be performed as a way to improve vision. Upper eyelid surgery can eliminate excess fat and skin in the upper eyelid region, effectively restoring one's field of vision. When performed for this reason, eyelid surgery potentially could be covered by insurance if deemed medically necessary by an optometrist.
If you would like to schedule a consultation with one of our doctors, or learn more about eyelid surgery, please contact The Ottawa Clinic.