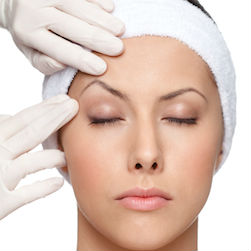 BOTOX® Cosmetic is designed to minimize the appearance of moderate to severe facial lines and wrinkles caused by the aging process. The injectable is commonly used to treat wrinkles and creases in the upper facial area and has proven to be especially beneficial for correcting crow's feet, forehead creases, and frown lines. Good candidates for the procedure are those who are unhappy with the wrinkles that appear when moving the facial muscles.
To learn more about BOTOX® Cosmetic, we encourage you to schedule a consultation at our practice.
The BOTOX® Cosmetic Procedure
During the BOTOX® Cosmetic procedure, your plastic surgeon will inject controlled amounts of the formula into the targeted underlying muscles, primarily of the forehead, face, and neck, that have led to wrinkles. These injections prove effective in treating lines and wrinkles because they temporarily weaken muscles and prevent them from wrinkling the skin. With the facial muscles relaxed, your skin appears smoother with reduced wrinkles.
BOTOX® Cosmetic Recovery
Downtime following BOTOX® injections is typically minimal. You may experience slight redness and swelling immediately after treatment, but ice compresses can improve these side effects. Most patients can resume their normal activities within a few hours of their treatment, making the injections a simple, convenient solution to facial aging.
Results can often be seen in as little as two days following the procedure. While BOTOX® Cosmetic is a temporary treatment, you can expect your results to last approximately three to four months, at which time you can return for touch-up injections, should you be interested.
Schedule a Consultation
If you would like more information about BOTOX® Cosmetic, or to learn how it can rejuvenate your appearance, please contact us today to schedule your consultation.
Brilliant Distinctions Program
Become a member of the Brilliant Distinctions Program and receive special offers, exclusive invitations, and membership to the Brilliant Distinctions Points Program where you can earn points on Botox Cosmetic, dermal fillers and Latisse. Click here to register.