BOTOX® Cosmetic
BOTOX® Cosmetic is designed to minimize the appearance of moderate to severe facial lines and wrinkles caused by the aging process. The injectable is composed of onabotulinumtoxinA, a neurotoxin that can temporarily cause targeted facial muscles to relax, preventing deep lines from forming when making facial expressions. Good candidates for the procedure are those who are unhappy with the wrinkles that appear when moving the facial muscles.
What Areas Can BOTOX Injections Treat?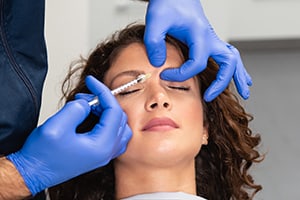 BOTOX Cosmetic is commonly used to treat wrinkles and creases in the upper facial area. The injectable is FDA-approved for temporarily improving moderate to severe frown lines, crow's feet, and forehead creases. BOTOX injections can even be used as a non-surgical brow lift technique, as the product helps prevent the muscles that pull the brow down to relax, creating a mild lifting effect. All of these signs of aging tend to develop from overactive facial muscles. Unlike dermal fillers which are used to treat static wrinkles, BOTOX injections are intended for dynamic lines and wrinkles that only appear when an expression is made.
In addition to its rejuvenating benefits, BOTOX can also be used to treat excessive sweating in areas like the underarms, hands, and feet. Learn more about hyperhidrosis treatment with BOTOX.
How Does the BOTOX Cosmetic Procedure Work?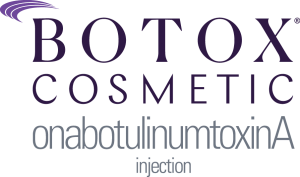 During the BOTOX Cosmetic procedure, our dermatologist, our nurse injector, or one of our plastic surgeons will inject controlled amounts of the formula into the targeted underlying muscles, primarily of the forehead, face, and neck, that have led to wrinkles. These injections prove effective in treating lines and wrinkles because they temporarily weaken muscles and prevent them from wrinkling the skin. With the facial muscles relaxed, your skin appears smoother with reduced wrinkles. The entire process can be completed in as little as 10 to 15 minutes, depending on how many units are needed and the number of areas that are being treated.
What Can I Expect After Getting BOTOX Injections?
Downtime following BOTOX injections is typically minimal. You may experience slight redness and swelling immediately after treatment, but ice compresses can improve these side effects. Most patients can resume their normal activities within a few hours of their treatment, making the injections a simple, convenient solution to facial aging.
How Long Do BOTOX Injections Last?
Results can often be seen in as little as two days following the procedure. While BOTOX Cosmetic is a temporary treatment, you can expect your results to last approximately three to four months, at which time you can return for touch-up injections, should you be interested. The time between BOTOX Cosmetic treatments may differ for each individual, based on how fast the product wears off and according to their personal preferences.
How Much Does BOTOX Cosmetic Cost?
The cost of BOTOX Cosmetic and other neurotoxins performed by one of our experienced physicians is $13-15 per unit. When performed by one of our registered nurses, the cost is $11.50 per unit. The total amount you can expect to pay for your BOTOX injections will be influenced by how many units you require to effectively address your concerns. This will vary for each patient based on which areas are being treated and their unique facial anatomy. Our team will provide you with an accurate cost quote prior to your treatment to ensure you know what to expect and can budget accordingly.
If you would like more information about BOTOX Cosmetic, or to learn how it can rejuvenate your appearance, please contact us today to schedule your consultation.