Tummy Tuck (Abdominoplasty)
Tummy tuck surgery is one of the most popular treatments available to help patients achieve a firmer, more toned look in the stomach region. In a tummy tuck procedure (also known as abdominoplasty), excess skin is removed from the lower abdomen, loose abdominal muscles are tightened, and the remaining skin is redraped to create a firmer, flatter appearance. Most of our abdominoplasty patients at The Ottawa Clinic are women who have had one or more children and are looking to tighten and recontour their waistline. Other possible candidates for this body contouring surgery are men and women who have undergone significant weight loss but have been left with loose lower-abdominal skin, or individuals who simply cannot get rid of excess skin along the abdomen, no matter how hard they try with diet and exercise.
To learn how a tummy tuck can help you attain your goals, please schedule a consultation with one of our plastic surgeons.
What Are the Benefits of Tummy Tuck Surgery?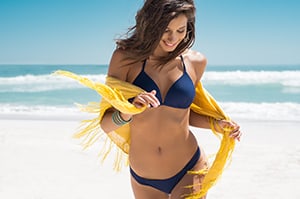 A tummy tuck can address a number of common cosmetic concerns simultaneously. The procedure is primarily designed to eliminate excess skin from the abdomen. However, before the skin is redraped for a smoother stomach, the underlying musculature can be tightened or repaired if it has become stretched or torn from a cause such as pregnancy or significant weight fluctuations. Stretched or torn abdominal muscles cannot be corrected by any amount of diet or exercise, and even patients who eat a healthy diet and regularly exercise may find that their abdomen still protrudes. Some patients who also have isolated fat deposits around the waistline may choose to combine abdominoplasty with liposuction for an even greater transformation.
Additional benefits of tummy tuck surgery may include:
Minimized appearance of stretch marks
Repaired hernias in the umbilical region
A slimmer, more toned and defined waistline
Improved fit of clothing and swimwear
For patients who feel the appearance of their midsection is not proportionate with their other physical features, a tummy tuck can create a more balanced, contoured silhouette.
Am I a Tummy Tuck Candidate?
Patients who are at or near their ideal weight but still struggle with excess skin around their abdomen are often ideal candidates for tummy tuck surgery. A tummy tuck is not designed to significantly reduce weight, though the procedure can be combined with liposuction to address small, isolated pockets of fat. Patients who have undergone significant weight loss may be good candidates for tummy tuck surgery. In addition, many of our tummy tuck patients are women who have had one or more pregnancies. Women who plan to become pregnant in the future should consider waiting before scheduling a tummy tuck. Though a pregnancy after the surgery should not cause any medical concerns, the results of the tummy tuck are likely to be compromised after an additional pregnancy.
A tummy tuck is a common surgery that is performed on a wide variety of patients ranging in age, size, and body type. All tummy tuck candidates must be in good overall health to minimize any risks associated with the procedure. Patients should either be non-smokers or cease smoking several weeks prior to and after surgery to further minimize risk.
What Risk Are Associated with Tummy Tuck Surgery?
Our experienced plastic surgeons use the latest tummy tuck techniques and state-of-the-art surgical technology to maximize your safety and comfort during the procedure. Prior to the day of surgery, patients are given comprehensive postoperative instructions on how to care for themselves in the following days. The details of any associated risks are thoroughly reviewed with tummy tuck candidates during the preliminary consultation.
What Does the Tummy Tuck Procedure Involve?
During the tummy tuck procedure, an incision is made along the lower abdomen, just above the pubic line. By making the incision in the lower abdominal area, residual scarring can often be easily hidden under clothing or swimwear. Your surgeon will then move forward with removing excess skin and fat, and then tightening the rectus abdominis muscles. The belly button (umbilicus) is often repositioned as well. With these surgical techniques, the lower abdomen can ultimately be flattened and the waistline narrowed.
Should patients desire a more complete transformation, they can combine procedures, such as mommy makeover surgery or liposuction of the upper abdomen or hips. The extent of your body contouring needs will be discussed at your consultation, where one of our experienced plastic surgeons will recommend the best solutions for reaching your aesthetic goals.
What Can I Expect in My Tummy Tuck Recovery?
Following your abdominoplasty, some swelling can be expected; however, any discomfort you experience can be treated with medication. Your activity will be limited for the first week or two, but you should be able to resume normal, light activities after the first two weeks. It is important that you refrain from strenuous activities for several weeks to ensure proper healing. More details of your recovery will be discussed when you meet with your surgical team.
How Long Do Tummy Tuck Results Last?
The results of your tummy tuck procedure should be long-lasting. The abdominal muscles will be tighter, and excess skin that was removed will not return. With this in mind, future pregnancy or weight fluctuations can compromise your tummy tuck results. This is why our plastic surgeons recommend women interested in tummy tuck surgery wait until after they have completed their families to undergo the contouring procedure.
Can I Get Pregnant After Tummy Tuck Surgery?
Tummy tuck surgery should not affect your ability to get pregnant in the future. However, if you do have more children after tummy tuck surgery, the improvement you were able to achieve may be reversed. This is why it is typically better to undergo the tummy tuck procedure after you no longer plan to have more children. By doing so, you can help prolong your tummy tuck results.
How Much Does a Tummy Tuck Cost?
The cost of a mini tummy tuck at our Ottawa practice starts as low as $10,500, while a full tummy tuck is typically $14,500 or higher. Several factors will ultimately influence the total amount you can expect to pay. This includes the expertise of the plastic surgeon, geographic location of the practice, extent of correction needed, and any related fees. At The Ottawa Clinic, we believe in being transparent about your cost, which is why our fees are standardized and will be thoroughly explained to you. For those interested in paying for their tummy tuck in smaller, monthly payments, we accept financing options to make your procedure fit more comfortably within your budget. The Ontario Health Insurance Plan (OHIP) typically does not cover tummy tuck surgery, but certain components of the procedure may be covered if they are deemed medically necessary.
If you have questions about tummy tuck surgery, or if you wish to schedule a consultation, please contact us today.