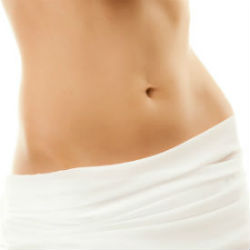 Tummy tuck surgery is one of the most popular treatments available to help patients achieve a firmer, more toned look in the stomach region. In a tummy tuck procedure (also known as abdominoplasty), excess skin is removed from the lower abdomen, loose abdominal muscles are tightened, and the remaining skin is redraped to create a firmer, flatter appearance. Most of our abdominoplasty patients at The Ottawa Clinic are women who have had one or more children and are looking to tighten and recontour their waistline. Other possible candidates are men and women who have undergone significant weight loss but have been left with loose lower-abdominal skin, or individuals who simply cannot get rid of excess skin along the abdomen, no matter how hard they try with diet and exercise.
To learn how a tummy tuck can help you attain your goals, please schedule a consultation with one of our plastic surgeons.
The Tummy Tuck Procedure
During the tummy tuck procedure, an incision is made along the lower abdomen, just above the pubic line. By making the incision in the lower abdominal area, residual scarring can often be easily hidden under clothing or swimwear. Your surgeon will then move forward with removing excess skin and fat, and then tightening the rectus abdominus muscles. The belly button (umbilicus) is often repositioned as well. With these surgical techniques, the lower abdomen can ultimately be flattened and the waistline narrowed.
Should patients desire a more complete transformation, they can combine procedures, such as mommy makeover surgery or liposuction of the upper abdomen or hips. The extent of your body contouring needs will be discussed at your consultation, where one of our experienced plastic surgeon will recommend the best solutions for reaching your aesthetic goals.
Tummy Tuck Recovery
Following your abdominoplasty, some swelling can be expected; however, any discomfort you experience can be treated with medication. Your activity will be limited for the first week or two, but you should be able to resume normal, light activities after the first two weeks. It is important that you refrain from strenuous activities for several weeks to ensure proper healing. More details of your recovery will be discussed when you meet with your surgical team.
Schedule a Consultation
If you have questions about tummy tuck surgery, or if you wish to schedule a consultation, please contact us today.