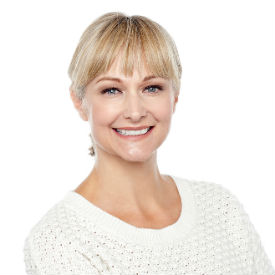 For those who are looking to reduce signs of age along the face and neck, our plastic surgeons offer facelift and neck lift procedures to create a more youthful aesthetic. As people age, the skin and tissues of the face gradually thin, developing sagginess and wrinkles. As a result, creases and folds on the face become more noticeable, often making individuals appear older than they actually feel. While these changes are normal, certain factors such as genetics, sun exposure, and smoking can accelerate the effects of aging in some people.
A facelift can take years off your appearance, especially when it is combined with other facial procedures, such as eyelid surgery. Another procedure commonly performed in conjunction with the facelift is the neck lift, which addresses skin firmness and elasticity in the neck. Major concerns of the neck appearance that can be improved with this procedure include loose skin, excess fat, and thick muscular bands. By combining both the facelift and neck lift, patients can achieve a more balanced, youthful look.
The Facelift Procedure
Prior to your facelift surgery, you will be put under general anesthesia. To begin the procedure, your plastic surgeon will place incisions in areas that are easy to conceal, which includes the hairline around the ear. Excess skin is removed and the remaining skin and muscles tightened, with the ultimate goal of a firmer and more youthful look. Our plastic surgeons are highly experienced with this procedure, and aim for the most natural-looking results possible.
If a neck lift is performed at this time, specific concerns will be managed differently. Excess fat can sometimes be addressed by liposuction alone via a small incision under the chin. Through a similar incision, prominent muscular bands can be tightened. If more skin needs to be removed for the best results, a second, well-hidden incision may be required behind the folds of the ear. After removal, the remaining skin will be redraped for a smoother, firmer neck appearance.
Facelift Recovery
The recovery from a facelift and/or neck lift is typically about two weeks, but this will ultimately depend on the extent of swelling and bruising that occurs. Any discomfort throughout the healing process can be remedied with medication. Patients can usually return to work after two weeks, as symptoms significantly lessen. More details about your recovery process will be discussed during the consultation process.
Schedule a Consultation
To find out if a facelift or neck lift can help you achieve your aesthetic goals, please contact us for more information or to schedule a consultation at The Ottawa Clinic.