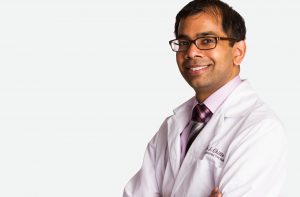 Sachin A. Chitte, MD, FRCSC is a board-certified plastic and reconstructive surgeon who acts as Co-Director of The Ottawa Clinic. He performs tummy tuck surgery, rhinoplasty, and several other cosmetic procedures for our patients, as well as reconstructive options, like hand and peripheral nerve surgery and melanoma surgery. Dr. Chitte is committed to staying up-to-date with the latest surgical techniques to provide our patients with the safest, most effective procedures possible.
In addition to his work at The Ottawa Clinic, Dr. Chitte acts as a plastic surgeon at Queensway Carleton Hospital, Carleton Place and District Memorial Hospital. He also lectures at the University of Ottawa, Faculty of Medicine, sharing his expertise with future medical professionals. Dr. Chitte has previously held privileges and worked at Toronto East General Hospital, St. Michael's Hospital, and Lakeridge Health Centre.
Educational Background
Dr. Chitte attended medical school at Queen's University at Kingston, Ontario. He then continued to McGill University to complete a residency in plastic, reconstructive and aesthetic surgery. Continuing his advanced surgical training, Dr. Chitte studied in a pediatric plastic surgery fellowship with specialization in cleft lip and palate repair, brachial plexus reconstruction and pediatric hand surgery.
Professional Affiliations
Dr. Chitte stays active in the plastic surgery community through his memberships in such organizations as the Canadian Society of Plastic Surgeons, the Canadian Medical Association, and the Ontario Medical Association. He is also a member of Operation Rainbow Canada, with which he traveled to Cambodia in 2013 and India in November 2014 on volunteer missions, focusing in cleft lip and palate, burn reconstruction and general plastic surgery in children and adults.
Dr. Chitte is married with two children, and in his free time, he enjoys traveling and spending time with his family, as well as being active in sporting activities like scuba diving, volleyball, and golf.
Schedule a Consultation
To learn more about what Dr. Chitte offers at our practice, or to schedule a consultation, please contact The Ottawa Clinic.