How Can I Remove Loose Skin on My Arms?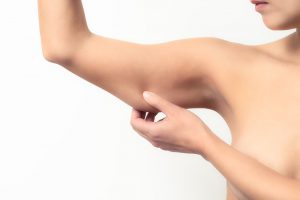 There are several reasons that loose skin may develop on the arms. Weight fluctuations may cause the skin of the arm to lose its elasticity, particularly the area that spans from the underarm to the elbow. Skin laxity in this area may also be the result of the natural aging process, and many people develop sagging skin that is sometimes referred to as "bat wings." Unfortunately, diet and exercise typically cannot provide significant improvement for this condition. However, our plastic surgeons are experienced in helping patients tighten and tone the appearance of the upper arm area with arm lift surgery.
Medically known as brachioplasty, an arm lift is designed to remove excess skin from the upper arm. For patients who wish to address isolated pockets of excess fat in addition to skin laxity, liposuction can be combined with an arm lift for a more complete rejuvenation. After arm lift surgery, the upper arm has a slimmer, more toned silhouette. In addition, patients typically find that their clothing fits better, and many experience a boost in their self-confidence. To discover if you are a good candidate for an arm lift, please contact The Ottawa Clinic to schedule a consultation.