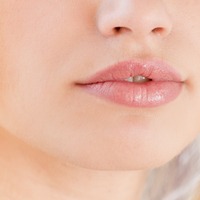 Whether it is in a selfie or walking down the street, your smile is the first thing people notice. "I used to try and hide my smile in photographs because I had a small upper lip and it always looked funny," says Melissa with a laugh. "I tried brighter lipstick and lip plumping creams to exaggerate my thin lips, but it never quite worked. So when Dr. Nodwell mentioned Juvéderm® VOLBELLA®, I thought I would give it a try."
Melissa, a patient liaison at The Ottawa Clinic, began receiving VOLBELLA® treatments from Dr. Nodwell, founder of The Ottawa Clinic, just over a year and a half ago to plump her pout. After a few rounds of small injections, Melissa noticed that her upper lip was getting fuller, so during her last round of VOLBELLA®, she stepped up her injections to get fuller and more visible results while keeping a natural look.
"Now my lips look great on camera," says Melissa, referencing a recent CTV Morning Live Ottawa interview she did.
The main ingredient in VOLBELLA® is hyaluronic acid, a naturally occurring sugar that is found in both the skin and cartilage. When administered, hyaluronic acid binds with water giving the lips a fuller appearance.
"Before I administer VOLBELLA® to a patient we have a thorough discussion about what she wants her lips to look like," says Dr. Nodwell. "Each treatment is very precise, so if a patient only wants refinement and definition, a smaller volume and fewer injections are needed. A patient who wants a fuller look will need a slightly larger volume, which can still be done in a single session."
For those who are shy about needles and pain, there is no need to worry. Each injection contains a small amount of lidocaine which helps numb the lips with each needle.
"And before the injection, Dr. Nodwell uses a numbing agent on your lips so you don't feel the first shot," says Melissa. "At the end your lips feel a bit bruised, but the feeling wears off in a few hours."
"One of the great features of VOLBELLA® is that it lasts longer than most fillers," says Dr. Nodwell. "Depending on a patient's metabolism and how fast her body breaks down sugars, the effects of VOLBELLA® can last from nine to 12 months."
Your smile says a lot about who you are, and now you can take control of how the world sees you with VOLBELLA® at The Ottawa Clinic.
Book a consultation to find out how VOLBELLA® can improve your smile.