To Reverse & Protect: Dr. Nodwell's Advice for Repairing Skin from Sun Damage
"Every day people visit with questions about fine lines, brown spots and complexion irregularity — which are effects of overexposure to the sun," says Dr. Trefor Nodwell, board certified plastic surgeon and founder of The Ottawa Clinic. In a recent interview with CTV Morning Live Ottawa, Dr. Nodwell spoke with host Lianne Laing about reversing the effects of sun damage and protecting skin from harmful UV rays.
Dr. Nodwell brought Candace Derickx, founder of Life in Pleasantville, on air to share her journey as she corrects the damage done to her skin after years of baking in the hot summer sun. "You start to notice it [the effects of sun damage] and regret it immediately," says Candace about what made her decide it was time to repair her skin. "You ask yourself, 'What did I do to myself when I was younger?!'"
"When Candace and I first sat down, we had a very candid conversation about treatment goals. To reverse many years of photodamage and photoaging, we entered into a many-month treatment process together," explains Dr. Nodwell. "We started with skin lightening agents to reduce some of the color, then added Fraxel® laser treatments to deal with fine lines and discoloration."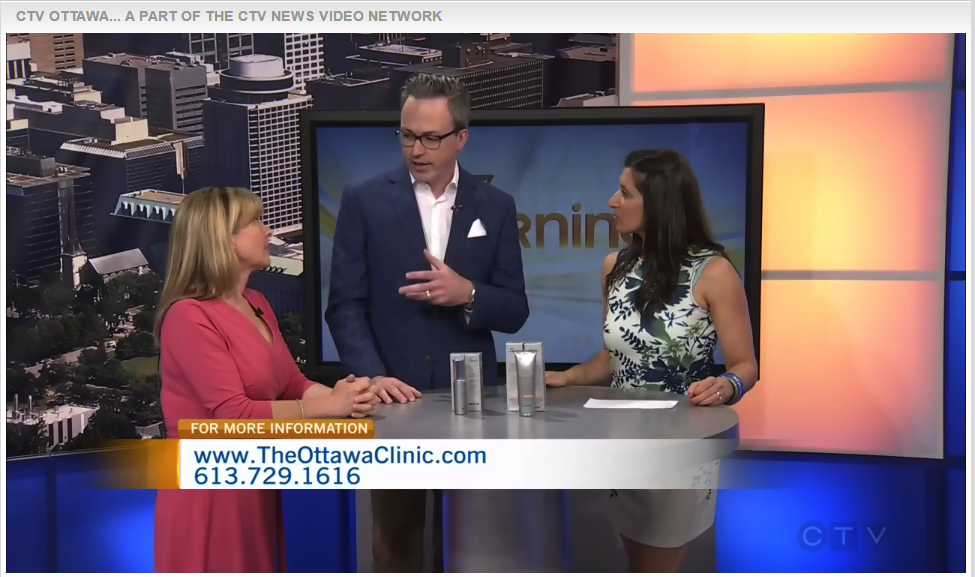 Watch the brief clip for simple advice on how to protect your skin — please click here. You will be directed to the CTV Morning Live Ottawa website.
If you're unsure how to go about repairing sun damage to your skin, or if you'd like advice on how to protect yourself before the summer sun's hot rays arrive, we can help. Book a consultation and see what treatment is best for your skin type.