Protect and Prevent: Sun Awareness Week Educates Canadians About Sun Exposure & Skin Cancer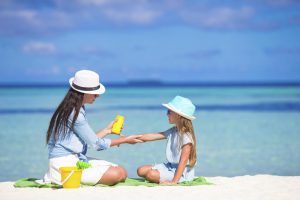 Mark your calendars for June 6, 2016 — the first day of Sun Awareness Week, hosted by the Canadian Dermatology Association (CDA) to raise awareness of the dangers of sun overexposure and ways to prevent rising incidences of skin cancer.
"Changes and damage to skin cells can cause cancer, or create precancerous conditions," says Dr. Jillian Macdonald, Royal College-certified dermatologist at The Ottawa Clinic. "Prolonged or repeated overexposure to the sun damages skin cells, ultimately increasing your risk of getting skin cancer. Sun Awareness Week is a smart initiative to help people understand how they're harming their body, and what they can do to play safer under the sun."
Lesser Known Facts About Skin Cancer
Dr. Macdonald encourages everyone to learn the facts about skin cancer. Here are a few:
Ninety per cent of skin cancers are caused by sun exposure.
People who use tanning beds are two and a half times likelier to develop squamous cell carcinoma.
Before the age of 50, cases of melanoma are higher in women than in men.
Warning signs of skin cancer can include any changes in size, shape or colour of a mole or skin lesion – among other symptoms.
How to Protect and Prevent
"From wearing sun protective clothing to applying sun screen, we can all do our part to help prevent and lower the number of instances of skin cancer," says Dr. Macdonald. She recommends:
Avoiding the sun when its rays are harshest, between 10 a.m. and 3 p.m.
Applying a sunscreen of SPF 45 or higher every two hours, especially when swimming or during physical activity that causes sweating.
Wearing sun protective clothing and brimmed hats anytime you're outside. They're light, breathable and can help block harmful UV rays.
If you find yourself with a burn, it's best to treat it immediately with an unscented moisturizer to soothe the skin. After it's healed, Dr. Macdonald recommends applying a topical retinol, such as SkinMedica Retinol Complex, to repair skin cell damage.
Have questions about how to play it safe in the sun or concerns about complexion irregularities? We're here to help. Book to speak with a board-certified dermatologist or plastic surgeon.