Double Chin Reduction: Surgical and Non-Surgical Options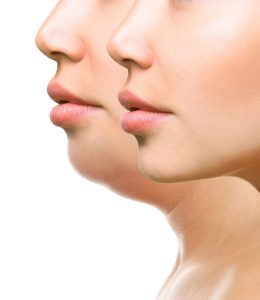 Submental fullness, which is more frequently referred to as a "double chin," is a common aesthetic concern for both men and women. Although diet and exercise can sometimes help, the stubborn fat cells in this area tend to remain, regardless of a healthy lifestyle. Additionally, weight loss efforts can only go so far when loose skin is present. Fortunately, The Ottawa Clinic offers a variety of solutions for double chin reduction, both surgical and non-surgical. Depending on your individual needs, our plastic surgeons can help you select the treatment(s) that can best meet your needs:
Neck lift – a neck lift is the most comprehensive way to treat a double chin. This procedure is designed to remove excess skin and fat, as well as tighten loose muscles. Neck lift surgery is generally performed along with facelift surgery, for more consistent results. Patients usually require approximately two weeks of downtime after surgery.
Neck/facial liposuction – this procedure can help eliminate fat that has collected in the submental region, and is particularly effective at targeting fat that is unevenly distributed. Results can typically be seen immediately after treatment, but there is a brief recovery period following the liposuction procedure.
CoolSculpting® with the CoolMini™ applicator – the CoolMini™ applicator makes it possible to non-surgically reduce stubborn fat under the chin in patients with good skin laxity. CoolSculpting® utilizes proprietary technology to precisely target and destroy unwanted fat. Results take time to become apparent, as the fat is eliminated through the body's natural processes. For some individuals, multiple sessions may be required, but there is little to no downtime associated with this treatment.
BELKYRA™ – this injectable treatment can be strategically administered by one of our experienced plastic surgeons in approximately 15-20 minutes with little to no downtime afterward. Fat in the treated area is gradually eliminated from the body, so final results of BELKYRA™ treatment may take a while to be seen. For the best possible outcome, multiple treatment sessions may be recommended.
To discover which surgical or non-surgical double chin treatment can best meet your needs, please contact us today to schedule a consultation with one of our skilled plastic surgeons.