Look Your Best and Plan Ahead for Pre-Wedding Cosmetic Surgery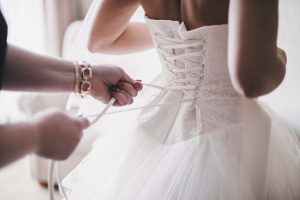 Studies have shown that up to 58 per cent of brides consider plastic surgery before their wedding. For best results, brides should plan in advance. Here are some of the most requested pre-wedding cosmetic procedures and recommended lead times.
One year to six months before: Look the Best in Your Wedding Dress
"Before she starts the process, a bride must find the right plastic surgeon who can address her needs," says Dr. Trefor Nodwell, founder of The Ottawa Clinic. "This can take time. Once she finds 'the one', a consultation with the surgeon can help identify the best solution for her body type."
For a bride seeking a slimmer waistline, liposuction may be an effective option. "Liposuction can offer immediate results, but we recommend patients wear a compression garment or elastic wrap for several days to facilitate healing," says Dr. Nodwell. "This, combined with the potential for tenderness and fluid buildup, can hinder a bride's ability to perform wedding activities, so it's smart to do this far in advance of the wedding date."
"For brides who don't want surgery, we offer Dual CoolSculpting® – a non-surgical procedure that freezes and breaks down fat cells, which are then naturally processed through the body," explains Dr. Nodwell. It can take six to eight weeks to see real results from Dual CoolSculpting®, and some brides may require several treatments, so plan for this.
Six to three months before: Get Camera Ready
Brides seeking alternative ways to look their best in front of the camera may be interested in BELKYRA™, a new non-invasive treatment that eliminates stubborn fat below the chin. "Using a very fine needle, we make a series of injections under the chin. A naturally-occurring substance found in the body, deoxycholic acid, breaks down submental fat," says Dr. Nodwell. "For best results, two injections are recommended, so women should get the first treatment done at least three months before the big day."
Dr. Jillian Macdonald, dermatologist at The Ottawa Clinic, works with women to improve skin health before the wedding. "To get a smoother, even skin tone, I recommend brides begin a regimen with a retinol complex six months before the wedding, such as SkinMedica®," Dr. Macdonald explains. "SkinMedica® stimulates skin cell turnover, helping to reduce fine lines, brown spots and sun damage to reveal a natural glow for your big day."
Three months before: Don't Sweat the Small Stuff
"Weddings are stressful enough without worrying that sweat might stain your dress, especially for those who suffer from hyperhidrosis – a condition that causes excessive sweating," says Dr. Macdonald. "Getting BOTOX® injections three months before the wedding can limit sweat production, helping brides feel calm and cool on their big day."
Are you getting married in the next year? Book a consultation with a board certified plastic surgeon to see which procedures can help you get ready to walk down the aisle with confidence and grace.