Does Liposuction Get Rid of Fat Forever?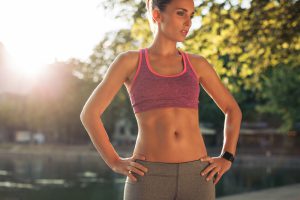 The short answer is yes—the fat removed during liposuction is permanently eliminated. However, while the same fat cells cannot return, your remaining fat cells are still able to grow or shrink in size, which means the slimming results from liposuction can be reversed with weight gain. Consequently, our plastic surgeons urge liposuction patients to maintain their healthy lifestyle even after their body contouring surgery in order to best maintain their results.
Ideal liposuction candidates will already be at or near their ideal weight. In fact, many people who seek liposuction are in good shape, but they struggle with stubborn areas of fat such as the hips, flanks, abdomen, arms, knees, or chin. For these isolated fat deposits that persist in spite of a healthy lifestyle, body contouring procedures such as liposuction can serve as a great tool for adding definition to your body and fully realizing your aesthetic goals. Although the fat removed with liposuction will be permanently gone, maintaining a stable weight is the best way to help you keep your new toned figure.
To learn more about the benefits of liposuction, or to schedule a consultation with The Ottawa Clinic, please contact our office today.