Dr. Chitte: Helping Patients and Giving Back to the Community Through Plastic Surgery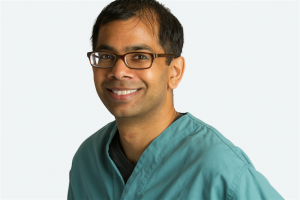 For Dr. Sachin Chitte, MD, FRCSC, board-certified plastic and reconstructive surgeon, plastic surgery is about more than nips and tucks; it is about helping patients live better, healthier lives while improving and tailoring his own techniques. This is something he learned early on when he began his career as a pediatric plastic surgeon.
"What first drew me to plastic surgery was the interaction with patients," says Dr. Chitte, co-founder of The Ottawa Clinic. "Plastic surgery is not just an operation. It is about consulting with patients and finding the best solution to suit their needs so they can live more fulfilling lives."
Dr. Chitte is well known for his expert skill at rhinoplasty, which he considers one of the most challenging procedures to perform because of its precision.
Dr. Chitte explains, "Surgery on the nose can change a person's look and alter their self-perception, so you have to consider every consequence."
Dr. Chitte also applies this precision to post-weight-loss body contouring. To determine where he should mark incisions so as to leave the least amount of scarring, Dr. Chitte observes how patients walk, stand and sit. As with all his procedures – from liposuction to breast augmentation – the doctor tailors the procedure to his patient's lifestyle.
Active in Ottawa's medical community, Dr. Chitte has been part of the University of Ottawa's Division of Plastic Surgery since the program started five years ago. In addition to teaching courses on breast procedures and plastic surgery to treat burns, he sits on the training committee and mentors residents at the Queensway Carleton Hospital.
Though his practice at The Ottawa Clinic keeps him busy connecting with residents in the National Capital Region, Dr. Chitte knows no borders when it comes to helping others. In 2014 and 2015, he made trips with Operation Rainbow Canada to Cambodia and India, respectively, to treat children with cleft palates. Dr. Chitte is expected to make another trip in 2017 to help those most in need.
"My early work in pediatrics and at training hospitals has given me a chance to explore many facets of plastic surgery and to help people live healthier lives," says Dr. Chitte. "The most important thing for patients is that they feel comfortable with their surgeon. Founding The Ottawa Clinic with Dr. Nodwell has given me the opportunity to build strong patient relationships and use my skills to help them change their lives."
Get on track to a healthier, more satisfying life. Book an appointment with Dr. Chitte to find out how.