Ottawa Plastic Surgeon Reveals Top Liposuction Benefits and Limitations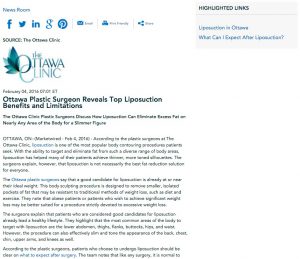 The Ottawa Clinic plastic surgeons discuss how liposuction can eliminate excess fat on nearly any area of the body for a slimmer figure.
Ottawa, ON—According to the plastic surgeons at The Ottawa Clinic, liposuction is one of the most popular body contouring procedures patients seek. With the ability to target and eliminate fat from such a diverse range of body areas, liposuction has helped many of their patients achieve thinner, more toned silhouettes. The surgeons explain, however, that liposuction is not necessarily the best fat reduction solution for everyone.
The Ottawa plastic surgeons say that a good candidate for liposuction is already at or near their ideal weight. This body sculpting procedure is designed to remove smaller, isolated pockets of fat that may be resistant to traditional methods of weight loss, such as diet and exercise. They note that obese patients or patients who wish to achieve significant weight loss may be better suited for a procedure strictly devoted to excessive weight loss.
The surgeons explain that patients who are considered good candidates for liposuction already lead a healthy lifestyle. They highlight that the most common areas of the body to target with liposuction are the lower abdomen, thighs, flanks, buttocks, hips, and waist. However, the procedure can also effectively slim and tone the appearance of the back, chest, chin, upper arms, and knees as well.
According to the plastic surgeons, patients who choose to undergo liposuction should be clear on what to expect after surgery. The team notes that like any surgery, it is normal to experience side effects such as mild swelling, bruising, and discomfort. A compression garment or elastic wrap is typically recommended to help facilitate the healing process and keep these side effects minimal. The surgeons explain that most patients will return to their normal activities after a few days, though strenuous exercise should be avoided for three to four weeks. Afterward, they say patients can begin to enjoy a slimmer and more contoured figure.
About The Ottawa Clinic
The Ottawa Clinic is the first practice in the National Capital Region to provide a comprehensive offering of both dermatology and plastic surgery treatments. All of the doctors at the practice are certified by the Royal College of Physicians and Surgeons of Canada, which is representative of their high standards of safety and medical care. Trefor Nodwell, MD CM is the founder of The Ottawa Clinic, and his team also includes plastic surgeons Sachin Chitte, MD and Michel Gallant, MD and dermatologist Jillian Macdonald, MD. The doctors are available for interview upon request.
To learn more about The Ottawa Clinic, visit theottawaclinic.com or facebook.com/pages/The-Ottawa-Clinic/288765704570938.
Contact:
The Ottawa Clinic
2936 Baseline Road, Suite 102
Ottawa, ON K2H 1B3, CA
(613) 232-7777
Rosemont Media
(858) 200-0044
www.rosemontmedia.com