The Ottawa Clinic Beach Vacation Checklist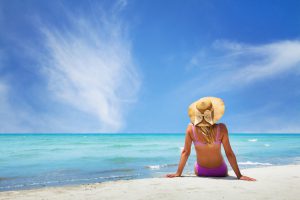 It's finally here… your beach vacation! You've waited all winter to dip your toes in the ocean and soak up the sun on the beach. But in all the excitement, you may have left actual planning to the last minute.
Fear not, snow birds! The Ottawa Clinic has your checklist for an amazing beach vacation, sure to make you forget all about the snow in your driveway.
Item 1: Your Beach Body
If you've been dieting since Christmas, but still can't shed those extra few pounds, you're not alone. A simple CoolSculpting® procedure can help speed along the process. It's non-surgical, so there is less recovery time, meaning you can be ready for the sun with only a few quick visits.  
Item 2: Clothing for Any Occasion
Now that you have your beach body ready, you want to make sure it looks its best in any outfit. Pack for a variety of weather conditions, events and occasions. Don't just focus on the perfect swim suit (although, that's important too). Make sure you're ready for rain or shine. You'll be comfortable, confident and ready for anything!
Item 3: Your Selfie Game
Nothing ruins the perfect selfie like pesky facial lines. But you can get rid of them with a BOTOX® treatment. Because results take only a few days, you can be ready for your vacation – and your close-up – in no time. Radiant, glowing skin will allow you to walk the beach, restaurant or resort halls with confidence, while giving your selfie game an added boost.
Item 4: Skin Protection
Let's face it, you've probably seen more snow than sand recently. Don't let the warm rays of the sun fool you, too much time on the beach can be damaging to your skin. A sunburn will not only leave you feeling uncomfortable for the rest of your trip, but will also cause skin damage down the road. Pack plenty of sunscreen, at least SPF 30, and use it constantly.  
You'll also want to undo any damage the winter has done to your skin before soaking up the sun. Cosmeceuticals will help moisturize your skin and protect it from the harsh effects of winter. Use them ahead of your trip to prevent that fresh-from-the-frozen-tundra look.
Wherever you're going this winter, make sure your skin and body are ready for the trip too by booking an appointment with our surgeons Dr. Nodwell or Dr. Chitte at The Ottawa Clinic!