Ottawa Plastic Surgeon on Coping with Winter Sports Bumps and Cuts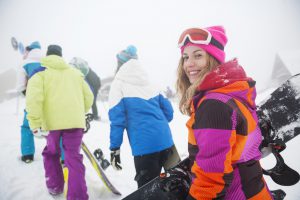 With Ottawa's winter weather comes skiing, skating, sliding and more, but these fun seasonal pastimes come with their share of spills and mishaps. A broken nose, stitches above the eye, or some other cut or bruise can often result from winter play.
"This is the season we see an uptick in requests for scar revision procedures," says Dr. Sachin Chitte, board-certified plastic surgeon and co-founder of The Ottawa Clinic. "Broken noses and deep lacerations are a common consequence of icy tumbles or pucks to the face."
Reshaping with Rhinoplasty
"If someone's nose heals improperly, he or she can be left with a bump on the bridge," says Dr. Chitte. Cosmetic rhinoplasty, or nasal surgery, improves the look of the nose, and is done either via open or closed surgery.
"During open rhinoplasty, we place an incision in the space between the nostrils, on the outside of the nose," explains Dr. Chitte. "This allows for greater precision and control when adjusting and correcting the shape."
During closed rhinoplasty, he says, "Nasal modifications are performed through the nostrils, inside. This way, we avoid visible scarring."
Typically, rhinoplasty can be performed within two to three hours. Dr. Chitte says initial recovery can last between seven and ten days, during which time patients can expect to experience some residual swelling. "I remind patients to keep their heads elevated and to apply a cold compress to reduce swelling," he says. "We often remove stitches and dressings within the first week after surgery."
Most rhinoplasty patients return to work after a few days.
Say Goodbye to Scarring
"I see a lot of people who want to get rid of an old sports injury scar," says Dr. Chitte. "Completely eliminating the appearance of damaged skin and smoothing irregularities isn't always possible, but scar revision techniques can improve both the look and feel.
Corrective surgery can be performed to remove the scar tissue, or less invasive measures, such as topical silicone therapy, are available. "Scar revisioning depends on each patient's requirements, so we encourage a visit to the Clinic to explore the possibilities," advises Dr. Chitte.
Have a nose bump or a scar you'd like removed? Call or book an appointment online!