Better Your Build with a Brazilian Butt Lift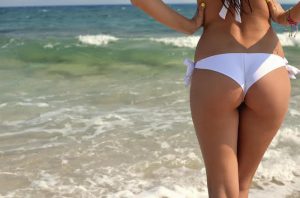 For women looking to improve their figure with plastic surgery, a Brazilian butt lift might be the key to getting the body shape they have always wanted. While many women are in search of a bigger booty, a butt lift will not only enhance its size, but can help them achieve a slimmer and more refined silhouette.
"To perform a Brazilian butt lift, we first extract fat from another part of the body," explains Dr. Trefor Nodwell, founder and plastic surgeon at The Ottawa Clinic. "We remove fat cells through liposuction from areas with excess fat, like the abdomen or thighs. This process yields the most natural results and lets patients lose inches and contour their bodies at the same time."
After fat is removed, it is purified then reinjected in small doses into the buttocks along the upper quadrant to give it lift. Patients with a square buttocks may also have liposuction performed in the gluteal area to give the area a rounder, more even shape.
"Some women never have much shape in their buttocks, while others find they lose shape as they age," says Dr. Nodwell. "This procedure is ideal for women with flat, sagging, asymmetrical or small buttocks, and those who have lost the shape in their buttocks through dramatic weight loss."
Once the fat has been reinjected into the body, it will stay in place for the rest of a patient's life. Those who plan on losing weight down the road shouldn't shy away from getting a butt lift. Many patients who lose weight after the procedure find that the size and shape of their new derrières stays in place, and contributes to an overall more balanced shape.
"The trickiest part is the recovery," says Dr. Nodwell. "For three to four weeks, patients are unable to sit down, or drive a car. Once the recovery process is complete, women are left with a curvier figure that looks and feels natural."
Could your derrière use a little lift? Book a consultation with The Ottawa Clinic to find out how a Brazilian butt lift can help you shape your silhouette.