Dermatologist's Sun Protection Tips for Ottawa Fun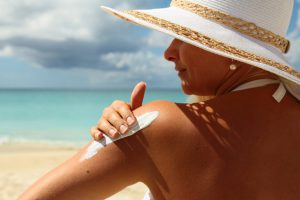 Spring, summer, winter or fall—there's always a lot to do outdoors in Ottawa! But no matter the weather forecast, you must protect your skin from the harmful rays of the sun to avoid brown spots, dryness, cracking, wrinkling, and even cancer. The Ottawa Clinic's dermatologist, Dr. Macdonald, offers the following skincare tips for staying safe and having fun while outdoors in all four seasons.
1) Check the UV index:
Whether it's for white water rafting on the mighty Ottawa River on a hot summer's day or skating down on the length of the Rideau Canal on a cool crisp winter morning, it's important to look at more than the temperature and weather forecast before heading out. It's true that UV rays penetrate through clouds and reflect off water, snow and ice. A UV index below 5.9 has moderate risks; above 6.0 is more dangerous. Either way, make sure you take the necessary steps to protect your skin.
2) Cover up:
Clothing is our first line of defense against UV rays, but different materials provide different levels of protection. When purchasing shirts, consider high protection factor (UPF) clothes such as UV Couture's Canadian-made products which block out 99 per cent of harmful rays. So, you can be stylish, comfortable and protected whether you're in a paddle boat on Dow's Lake or are bird watching at Mer Blue.
3) Screen the sun:
If you're playing volleyball at Mooney's Bay or catching an Ottawa Champion's home game, remember that unprotected skin will burn in just 10 minutes. There are many types of sunscreen that block harmful rays and hydrate your skin at the same time. Remember to apply and re-apply liberally, and be sure to cover all skin that is exposed to the sun, from behind your ears to between your toes. When looking for the right product for you, here is a checklist of must haves:
SPF of 40 or higher
Water and sweat resistant
UVA and UVB protection
There are many excellent products available here.
4) Undo the damage:
Years of unprotected fun in the sun may have caused wrinkles, sun spots and creases which make you look older than you feel. No matter, there's lots that can be done non-surgically to reverse this, such as skin resurfacing and tightening. Soon you'll be looking your best while enjoying the views from the Tavern On The Hill or relaxing in the panoramic pool at Le Spa Nordik.
To learn more about protecting your skin from the sun in Ottawa, or to discuss options for skin rejuvenation, watebook a skin consultation with The Ottawa Clinic.