Feeling Free: Ottawa Woman 'Takes the Plunge' with Body Contouring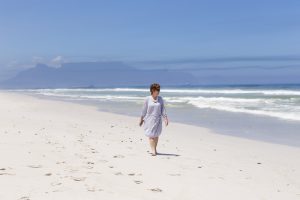 "I finally reached a point in my life where I was completely and utterly fed up with feeling uncomfortable and restricted. I had shed my weight, and now I wanted to lose the extra skin; I was ready to move on with my life." — Mary, 63 years old.
Two scheduled scuba diving trips did not deter Mary from meeting with Dr. Sachin Chitte at The Ottawa Clinic. In November 2015, the Ottawa native 'took the plunge' by undergoing body contouring surgery — specifically, a lower body and medial thigh lift — to remove excess skin after her recent significant weight loss. Her goal? To lead a more comfortable life without restrictions — and to properly fit in the wetsuit she so pined for.
"Because of the excess skin left after losing weight, I couldn't find a wetsuit that would fit my arms properly. I was often cold when we were on our dive trips. When I exercised, my skin would get pinched in spots which was painful," explains the avid scuba diver.
In fall 2015, Mary visited Dr. Chitte at The Ottawa Clinic. "Mary's significant weight loss, combined with the excess skin on her arms, thighs, abdomen, hips and buttocks, made her a good candidate for a lower body and medial thigh lift," explains Dr. Sachin Chitte, board-certified plastic surgeon and co-founder of The Ottawa Clinic. "This involves removing extra skin and fat tissue from these areas and tightening the stomach muscles. We also revised an old tummy tuck to tighten up her abdominal area."
In June 2016, Mary returned for a brachioplasty, or an arm lift, to remove the sagging skin that hung from her arms. In all, Dr. Chitte removed eight pounds of skin from Mary's body.
Lower body lifts are best suited to patients who have lost a significant amount of weight – whether via bariatric surgery or a long-term regimen of healthy eating and exercise.
"Dr. Chitte instilled a lot of confidence in me. He got as excited as I did about my results too!" laughs Mary. "He didn't give me any false hopes, rather told me what to expect and how to prepare."
For anyone considering body contouring, Mary has advice: "Do it sooner than later so you can enjoy the results. It's short-term pain for long-term gain."
Visit Dr. Chitte to find out how you can take the plunge with plastic surgery. Contact us.