Medical tourism: What is it and why is it risky?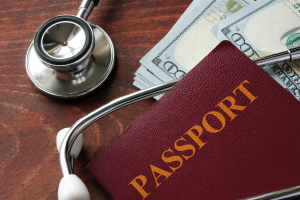 People have sought plastic surgery abroad for years, citing lower costs, faster turnaround times and much more. But, Dr. Sachin Chitte points out, there are many risks associated with travelling for treatment, something commonly known as medical tourism.
"People are often unaware of the healthcare standards in foreign countries," says Dr. Chitte, board-certified plastic surgeon and co-founder of The Ottawa Clinic. "It's hard to know the qualifications of the surgeon performing the procedure, unless the patient has a thorough understanding of the licensing system there."
The first step in any successful plastic surgery journey is finding the right surgeon. "Patients must feel they're understood and know their surgeon is capable," explains Dr. Chitte. This means establishing a relationship and building rapport from the get-go.
When travelling abroad, patients often don't have the opportunity to develop that relationship. Typically, they aren't in the country for long, leaving them little-to-no time to get acquainted with the person operating on their body. It also means difficulty with follow-up appointments post-surgery.
"Follow ups are necessary after any operation," says Dr. Chitte. "If a medical tourist faces complications, chances are the patient has already returned home. Visiting a new surgeon in Canada can be incredibly challenging. The surgeon may not know how the procedure was performed or what medications were prescribed. He or she may also not be readily-available for an unexpected new patient."
In Canada, there are only so many ways to perform rhinoplasty safely, for example. Similarly, the medications prescribed post-operation are often alike. However, the procedure may be performed completely differently in another country, or the medication prescribed may not be available in Canada. The surgeon is then faced with a challenge – how can we work with this patient's issue safely?
"I have seen patients who've been medical tourists. Some have visited me with minor issues, but others have required hospitalization because of how a procedure was performed or the materials used," explains Dr. Chitte. "I have also seen patients who've asked for a specific procedure, and when it was explained the treatment wasn't the right fit, an alternative was offered. The person went abroad to have the desired surgery done anyway. When they returned they faced many challenges."
The bottom line is this: accessibility and relationships are paramount to a safe and healthy plastic surgeon-patient relationship. When faced with a life-altering decision, don't take risks.
Find out more about plastic surgery procedures offered in Ottawa. Visit Dr. Chitte today.